I want a craft room. I need a craft room. And, without going into a lot of detail yet, I may be able to start working on a craft room by March. Yay! I am so excited! I've already started coming up with ideas and plans for it, and for fun, I thought I'd share them with you all.
The room is small, not sure of the measurements, but I think it was designed to be a tiny bedroom, so it has a nice sized closet and a bright little window. I want the room to be not only a place where I can store my craft supplies, but also a place where I can work on my projects comfortably and with lots of light. I need the perfect combination of style, comfort, and function. So here's the plan...
Style:
Alright, so I love the idea of vinyl wall decals, and I especially love
this one
from another seller on Etsy.
But it's not exactly what I want. I also like this one from the same seller.
and the birds from this one...
And unfortunately, as much as I love all three of these, I cannot afford any of them. So the plan is to paint my own design on the walls, freehand. I think I want to do a tree with various colored green leaves and a bunch of flowers like in the second picture in bright colors like pinks and purples, then scatter a few of the little birds from the third picture throughout the branches in blues and maybe yellows.
Mostly, I'm all about color and light. I'll probably put some sheer white curtains on the window, do some white shelving and brightly colored organizers, but that all comes in the function side of things.
Comfort:
I love to crochet and paint, but sometimes it takes so long, and to sit quietly for that long sometimes makes me nuts, so I really want a little love seat and television. Something small and cute maybe like this...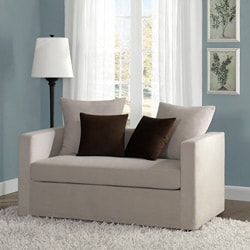 Then I'll probably put the TV on a cart that can be stowed inside the closet.
Function:
I've got lots of ideas on this end of things. Luckily I've got a good start on this already. I have this great sewing/craft table that Steve bought me for Christmas two years ago. It's got a great amount of storage space and I can put it right under the window and sit there to work.
But I've found tons of ideas online for what to do with everything else.
And this
great ide
a from Martha Stewart, to be done in bright colors of course.
Anyway, this is just the start of my ideas. When we actually start the project, as well as some others probably, I'll be sure to post all of the renovations and such on here.
Oh! Don't forget the Giveaway in
my last pos
t! Enter now!